Divorce has a reputation for being expensive, but fees don't have to rise through the roof. Luckily, there are plenty of ways to keep the costs down so that breaking up doesn't have to break the bank. The answer to the question 'how much does divorce cost?' will depend on which method you choose (and how amicable your relationship remains).
In this post, we will run you through each available option and the costs involved, so you can make the right choice for you. Then we'll show you how you can save a significant amount of money on divorce proceedings.
How much does the average divorce cost in the UK?
The cost of divorce in the UK can be huge. It's estimated that couples can end up paying £8,000 each in legal fees just for lawyers to sort out their finances.
The cost of going to court is estimated at £13,000 per person outside of London, reaching £40,000 per person in London, although these fees can be higher.
That means the average divorce cost in the UK, sits at around £42,000 outside of London and up to a whopping £96,000 inside London.
If you put that into context, it's the equivalent of a third bedroom, a garden or an easy commute to primary school all given to lawyers.
So, what are your options?
Going to court
Going to court should be the last resort, but sometimes it's unavoidable. Going to court is usually the most expensive, acrimonious and drawn out option.
It's estimated that the legal cost of going to court is around £40k per person in London and £13k per person outside of London.
It can take approximately two years or more at times to finalise things through the court.
Mediation
A mediator is an independent, trained professional that helps you and your partner to work out agreements for children or finances.
This option works if you and your ex can commuicate with each other. You need to be aware that you'll need to go elsewhere to get the legal side of separating sorted.
Mediators normally charge from £100 an hour per person and most couples have between three and four sessions.
Solicitor / Lawyer
A common option, a solicitor or lawyer can manage the legal process of divorce/ separation as well as any financial and childcare issues too.
This option is most relevant where there are danger signs, and you need your own legal protection.
For example, domestic violence, one person hiding /moving assets.
The cost ranges from £500 for a simple divorce but can reach around £15,000 if the process is long (usually because of disagreements between you).
Remember you will be paying two lawyers at an average of £8000 per person for divorce and finances.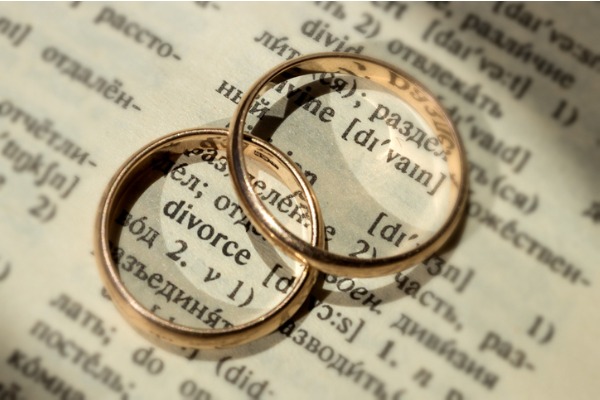 How much does an amicable divorce cost?
Amicable's service is unique as we're able to help with everything, including financial and childcare arrangements as well as the legal process.
We make everything as simple as possible. Using amicable allows you to separate without lawyers and makes the process around three times cheaper than a solicitor and half the cost of mediation services.
Our services range from £300 for a simple divorce/dissolution and ranges up to £2850 for help with everything per couple for negotiation of finances, childcare arrangements as well as the divorce and consent order documents.
Of course, there are other online services out there, but none provide the beautiful combination of really smart tech and that all-important human touch.
View our fixed-price services here
Do-It-Yourself
It's possible to file the divorce paperwork yourself using the government website if your divorce is simple, and you're comfortable with managing the process yourself.
The cost of filing your divorce/dissolution yourself is up to £550 (the court fee). You can check if you're entitled to a discount on this court fee here.
If you file your divorce yourself, you will still need legal support to negotiate and legalise your financial separation.
amicable offers a range of services to help you with your finances from a write-up service for couples who have agreed their finances, to a fully supported negotiation support where a more comprehensive service is required.
If you've filed online, then give us a call or view our service here.
How Can I Save Money on my Divorce?
We've sprinkled some tips for saving money on your divorce above, but here are some more to drive the cost of your divorce down further.
Eliminate the two most expensive things in a divorce - lawyers and conflict
And they usually come in that order. Our advice is always – amicable is better for the kids the finances and your future.
Have a sit-down conversation and separate the demise of the relationship from the business of separating your finances.
Agree to work together to do the right thing and be amicable. If you do nothing else I promise this will save you a fortune and keep the cost of divorce low.
Start with the children and keep the focus there
If you have children start with them and answer the question 'what do our children need to be happy, successful thriving kids?'
This is a very different to ' what am I entitled to?'. We always encourage parents to start with arrangements for their children and build the finances around them.
You will save money and have peace of mind if you do things in this order.
Set clear financial goals to keep the cost of divorce low
Lots of people start a divorce without really understanding what they are trying to achieve financially. Think about how you want to be at the end of your divorce.
Do you want to be debt free, independent, go back to work? When people set goals they are more likely to get what they want and tend to stay focused on the future.
If you can try not to sweat the small stuff, you are likely to achieve a settlement more quickly. This is crucial as divorce is a long process and you need stamina.
Be honest and upfront, disclose thoroughly and truthfully
You can only divide things when you know what you've got. You should make a list of all your finances and show it to your partner. This is called a financial disclosure.
Putting assets out of the reach of your partner (for example by putting things in other people's name) is the quickest way to start a legal war. Don't do it.
You must make a full and honest disclosure. Not disclosing fully and truthfully means your case can be re-opened and a new order made, even after your death.
For more tips on how to keep the cost of divorce down, head here for some amicable tips or book a free 15-minute call with an amicable Divorce Coach.
Book a free 15 minute advice call
If you have any questions, or would like some support, please book a free 15-minute call with one of our experts here.