Getting a divorce (for marriages) or dissolution (for civil partnerships) has a reputation for being expensive, but it doesn't need to be. Luckily, there are plenty of ways to keep the costs down so that separating doesn't have to break the bank.
The average cost of a divorcedissolution depends on various things such as; which route you choose (DIY, mediation, lawyers or amicable), how much advice you'll need and how amicable your relationship is.
In this blog, we cover each available option and the average cost associated, so you can make the right choice for your situation.
We'll also show you how you can save a significant amount of money on divorce proceedings through our helpful guide.
How much does the average divorce cost in the UK 2021?
The average cost of a divorcedissolution varies depending on how you choose to divorce and if you are splitting your finances. According to the Money Advice Service, it's estimated that separating couples can end up paying £8,000 each in legal fees for managing the divorce and financial split, with the average cost of using a collaborative family solicitor being anywhere between £8,000 and £15,000. If you are using solicitors and being charged an hourly rate, this can exceed £40,000.
The legal cost of going to court in England and Wales is estimated at £13,000 per person outside of London, reaching £40,000 per person in London, although these costs can be higher.
Which means the average divorce cost in the UK, sits at around £42,000 outside of London and up to a whopping £96,000 inside London.
If you put that into context, it's the equivalent of a third bedroom, a garden or an easy commute to primary school.
So, how do you get divorced without the costs spiralling out of control?
Going to court
Going to court should be the last resort and it's the most expensive, acrimonious and drawn-out option, but sometimes it's unavoidable.
It's estimated that the legal cost of going to court is around £40,000 per person in London and £13,000 per person outside of London.
It can take approximately two years or more at times to finalise things through the court. Therefore, getting the right advice before you get to this point is crucial.
Mediation
A mediator is an independent, trained professional that helps you and your partner to work out agreements for children or finances.
This option works if you and your ex can communicate with each other. You need to be aware that you'll need to go elsewhere to get the legal side of separating sorted.
Mediators normally charge from £100 an hour per person and most couples have between three and four sessions.
On top of the mediation costs, you'll need to account for the cost of getting your agreement drawn up into a consent order and sealed through the courts.
Don't forget to ringfence money for the court fees too (£593 to file for the divorcedissolution and £53 in court fees for the consent order costs).
Divorce Lawyer / Solicitor
The most traditional option, a divorce solicitor or family lawyer gives individual legal advice and will manage the legal process of divorceseparation as well as any financial and childcare issues too.
This route is most relevant when there are danger signs, and you need your own legal protection. For example, domestic violence, hiding/moving of assets.
The average cost ranges from £500 for a simple divorce but can reach around £30,000 if the process is more complex (usually because of disagreements between you).
You will be paying two lawyers at an average of £8000 per person for divorce and finances. You also need to set aside money to pay the divorce court fee and filing fee for the consent order too.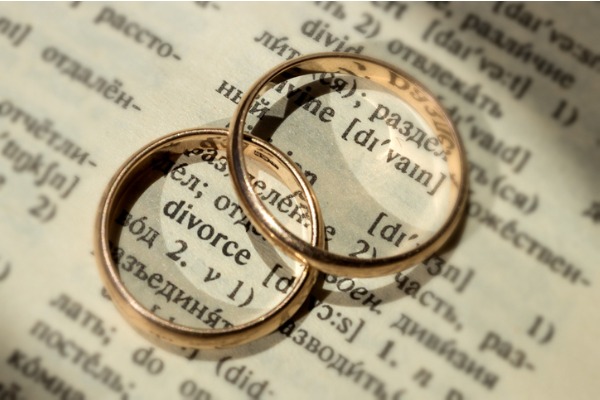 How much does an amicable divorce cost?
amicable's divorce-diagnostic are unique as we're able to help with everything, including financial and childcare arrangements as well as the legal process. Whereas traditionally, a separating couple would have to choose either the solicitor, the mediator or the do-it-yourself route, amicable offer a 'one stop shop'.
Using amicable allows you to separate without lawyers and makes the process around three times cheaper than a solicitor and half the cost of mediation divorce-diagnostic.
Our divorce-diagnostic range from £300 plus the court fees (up to £593 if you're not entitled to a discount) for a simple divorcedissolution and ranges up to £5550 for help with everything per couple for negotiation of finances, childcare arrangements as well as the divorce and consent order documents if you have assets of more than £2 million, or more than one property.
Do-It-Yourself
It's possible to file the divorce or dissolution paperwork yourself using the government website if your situation is straightforward, and you're comfortable with managing the divorce process yourself.
For the person starting the divorce, this will mean completing applications for the D8 (divorce petition), decree nisi and decree absolute. The other person will just need to fill in one form for the divorce (called the acknowledgement of service).
The cost of filing your divorcedissolution in England and Wales is up to £593 in court fees. Don't forget you will need an original copy of your marriage certificate. If you're on a low income, you can check if you're entitled to a discount by using our free divorce court fees calculator. If you are entitled to a discount on the court fees, make sure you apply for it before you send off your divorce petition.
Even if you file for divorce yourself, you will still need legal support to negotiate and legalise your financial separation and there is obviously a cost attached to this (options below). 
amicable offers a range of divorce-diagnostic to help you with your finances from a write-up service if you have agreed how you will split your finances, to a fully supported negotiation support where a more comprehensive service is required.
If you've filed for your divorce online, book a call to discuss the options for agreeing and legalising your finances and/or childcare arrangements.
Step by Step Guide on How Can I Save Money on your Divorce?
  We've mentioned some tips for saving money on your divorce / dissolution above, but here are some more to drive the costs of your divorce down further.
Step One: Eliminate the two most expensive costs in a divorce - lawyers and conflict
And they usually come in that order. Our advice is always – amicable is better for the kids, the finances and your future.
Getting divorced without spending unnecessary cash on legal fees and ending up in court requires both people to be able to separate the emotions from the 'business of divorce'. This can also save time on your divorcedissolution because an amicable divorce is quicker than an acrimonious one.
If you and or your ex are not emotionally ready to discuss things constructively, costs will increase, so it's worth waiting until you are both ready, allowing time or seeking support from a coach or therapist.
Agree to work together to do the right thing and be amicable. If you do nothing else I promise this will save you a fortune and keep the cost of divorce low.
Step Two: Start with the children and keep the focus there
Priority number one if you have children is to start with them and answer the question 'what do our children need to be happy, successful thriving kids?
This is very different to 'what am I entitled to?'. We always encourage parents to start with arrangements for their children and build the finances around them.
f you prioritise your children, you are more likely to have an amicable divorce and in the process save time and money.
If you need extra help try reading our parenting plan blog or download our free parenting plan e-book.
Step Three: Set clear financial goals to keep the cost of divorce low
Lots of people start a divorce without really understanding what they are trying to achieve financially. Think about how you want to be at the end of your divorce.
Do you want to be debt free, independent, and to go back to work? When people set goals they are more likely to get what they want and tend to stay focused on the future.
If you can try not to sweat the small stuff, you are likely to achieve a settlement more quickly. This is crucial as divorce is a long process and you need stamina.
Step Four: Be honest and upfront, disclose thoroughly and truthfully
You can only divide things when you know what you've got. Make a list of all your finances and share it to your partner. This is called a financial disclosure.
Hiding or moving assets out of the reach of your partner (for example by putting things in other people's name) is the quickest way to start a legal war and avoidable legal costs. Don't do it.
If the financial disclosure isn't fully truthful, your case can be reopened and a new court order made, even after your death.
Step Five: Do your homework
Legal advice is expensive and getting divorced can be one of the most expensive things you'll have to fork out for. If you're reading this you're already well ahead in terms of understanding the costs and how to keep on top of them.
If you need support from an expert, take advantage of free consultations and be sure to ask for the best case and worst case scenario in terms of costs so you have a range to work with.
Opt for fixed-fee divorce-diagnostic like amicable if possible as that will give you peace of mind and allow you to plan much better for the future.
Step Six: Speak to an expert
We hope the advice in this blog will help you to save money, stay out of court and keep things amicable.
For more tips on how to get divorced and keep the costs low, book a free 15-minute call with an amicable Divorce Coach.
FAQs
What's the cheapest cost way of getting divorced?
The cheapest possible divorce would be doing it yourself via the government website and then paying the court fees. Whilst this may seem like an attractive option, you may experience delays if you're not familiar with the divorce terminology. You will also need support from someone who is legally trained to formalise your financial split.
Who usually pays for a divorce?
This depends on whether you and your partner want to split the costs or not. If you are not planning on splitting the costs, normally the person who files the petition (the petitioner) would pay the court fee and any other related costs. However, it is possible for a judge to order the respondent to partially pay the costs if the cost order box is ticked on the petition.
Can I do part of the divorce myself and just sort the finances using amicable?
Absolutely, however if you are unsure of the divorcedissolution process, it's worth considering whether you may require more help with the divorce paperwork to avoid unnecessary delays and extra charges for filling out the paperwork incorrectly.
How much does online divorce cost?
Online divorce costs a minimum of £593 in court fees, if done through the government website. However, you can use our free divorce court fees calculator to find out if you might be eligible for money off your fees here.
If you're planning on splitting your finances, you will need to seek additional help from a legally trained person. Alternatively, you can use amicable to help you with this process. Discover how amicable might be able to help you by finding the right service for you.